Adventures in Kyoto and Beyond
Nara
With Jeff and Kristin moving on, and Nicola just landed and jet lagged, we thought to see if Anna had time to meet us in Nara. She did, but not before afternoon, so the logical course of action was to take the train down and tour on our own until then.
We had shopping arcade sashimi for lunch en route to the park area renowned for its tame deer. I was plenty thrilled to see one relaxing near a temple and amenable to petting. Soon enough, they were all over the place. At first we found no takers for our purchased packet of crackers. The further from the vendors, the hungrier the deer, insistent enough to headbutt Spousal Unit for being out of food along with a random woman who didn't have any in the first place. In addition to an easy deer target, Spousal Unit provided all the photos for today as my phone was forgotten at the apartment.
Todai-ji Temple's giant bronze Buddha was exactly as advertised. A cheerful multilingual guide neatly walked us up to the entrance with an overview of the temple's history, the courtyard stones' origin signifying the spread of Buddhism from India to China to Korea to Japan, and instructions on purifying ourselves in the fountain in preparation for entry. Other temples had required the removal of footwear, but giant Buddha seemed to get enough visitors to make this impractical to enforce. People lined up a good while to squeeze themselves through a small hole in the base of a pillar, which I was happy enough to spectate rather than risk getting stuck on my shoulders. Turns out that this hole is the same size as the Buddha's nostril, and those who can get through it will be granted enlightenment in their next life.
Afterward was a very squeeful meetup with Anna and Cassie, a former fellow English teacher staying with her for the week, and leisurely walk to Anna's cozy and classic home. Given that Spousal Unit and I had a post-deer shopping arcade break for coffee and chiffon cake, I expected to eat a cookie or three from the supermarket haul purchased en route for pre-dinner chill time. The variety and quantity of the spread, the cherry liqueur-fueled elation of catchup, and the relative lateness of conveyor belt sushi compared to our usual evening food had me lazing back on the tatami floor with an epic meal time made of sugar. As we had been walking about ten miles a day on average, this was a much needed recharge of travel batteries.
And also why we enjoyed a relaxed Monday after, especially after a late night back on a slow local train. Our first choice of vegetarian restaurant was permanently closed. We ended up springing for Tousuiro's tiny flavorful portions in a traditional riverview setting with foot wells by the floor cushions. I ordered a bottle of some sort of craft beverage with citrus label, expecting a variety of shandy. It turned out to be a highball, smooth and not too sweet and ever so deliciously potent.
Himeji Castle
Our dwindling checklist of must dos in Kyoto had us looking more closely at day trips beyond those already planned. When Nicola mentioned Himeji Castle in our morning chat, Spousal Unit and I jumped a shinkansen in hopes of meeting up with her, difficult as that might prove without roaming data on both ends of the deal. We encountered her and partner Tom on the top floor of the main keep, perfect timing for ships that might have otherwise passed in the noon crowds taking great care to negotiate several stories of steep stairs in stocking feet with bagged shoes in hand.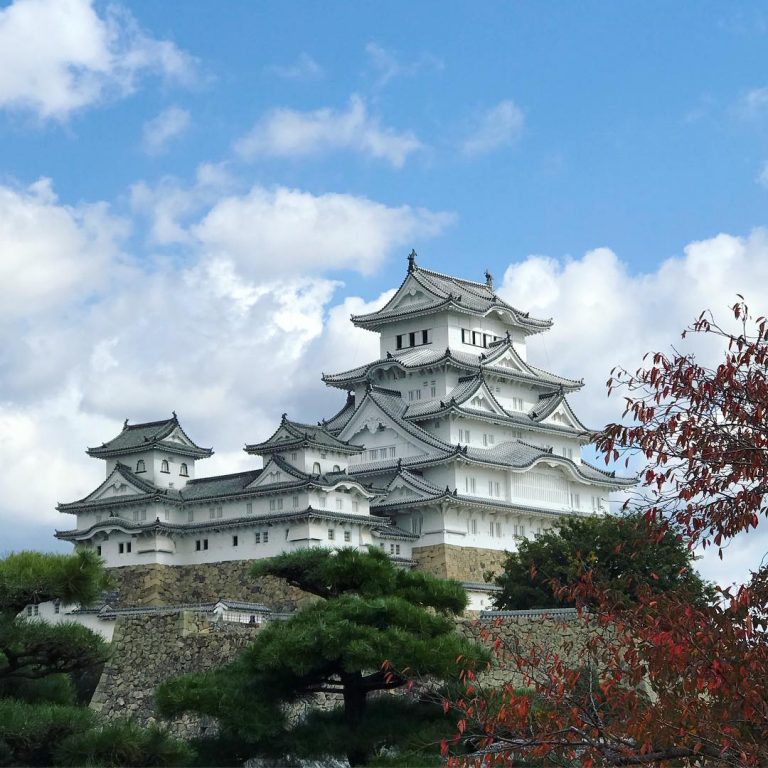 Nicola provided some valuable historic context as we toured, complementing displays throughout the impeccable and otherwise empty wooden interior. Among the details of Himeji Castle's history and restoration process were demonstrations of architectural physics, featuring beams to slot together and stones to insert in a mockup of the exterior wall. The particulars of a nondescript well, which caught the heads of those committing seppuku, would not have been known to us without our impromptu guide.
We headed back to Osaka via train, guiding a tourist who asked which way the very visible castle was and then informed her traveling companion that the kids got her sorted – amusing in the most flattering possible sense when one half of your partnership is forty and the other a mere two months away. The subway dropped us off at a gloriously bonkers shopping area including a high fashion arcade where Nicola had regularly hung out as an exchange student, all soaring storefronts and a pervasive melange of perfume. Our traveling companions fought jet lag throughout a late lunch of conveyor belt sushi before turning in for a nap. Spousal Unit and I enjoyed coffee, cake, and a productive jaunt through the Sanrio gallery en route to perfectly timed subway and inexpensive efficient regional train back to Kyoto.